Corporate Cupcakes
PERFECT FOR EVENTS & PR GIFTS
Quick order corporate options
We have created three options that suit most of the corporate request we receive however if you are after something different, please don't hesitate to contact us or request for a quote below.
CORPORATE CUPCAKES AUCKLAND
What a delicious way to get exposure for your business
Corporate Cupcakes make for a memorable treat & that's smart marketing!
It's human nature to gravitate toward food, especially food that looks as glorious as cupcakes. And that's why cupcakes are a great addition to any corporate event and make for memorable corporate gifts. The ways where cupcakes can be utilised are only as limited as the imagination. So to get your imagination jogging… here are just a few occasions where cupcakes would be the ideal treat:
Corporate PR gifts
Clients, staff or your businesses birthdays
Christmas parties, launch parties or publicity events
Workshops or training days
Welcome or thank you gifts
Meetings or morning/afternoon teas
Treat people regularly? Become a VIP.
We know how busy businesses get and we want to make your life easier. If you have regular meetings, staff shouts or seminars we can take care of your order. On time, every time. As a VIP you won't need to call each and every occasion. Simply pre-arrange everything with us once, and we'll make sure you're sorted for as long as you need. You can focus on what matters, with piece of mind knowing your catering is being well looked after.
If it can be done, we will make them!
To make things a little easier, we have loaded 3 corporate quick order options above however for larger orders or if you need something specific – just pop us a quick message and we'd be happy to put together a quote for you.
Why Bloom Cupcakes?
To make a great lasting impression and have people talking about your event, you want to serve them only the BEST! And Bloom Cupcakes are the best!  With fluffy cloud-like frosting on moist flavourful cakes, you know you have made the right choice with Bloom Cupcakes.  If you haven't done so, come and try your first Bloom Cupcake today and you will know what sets us apart.
Corporate Cupcakes Options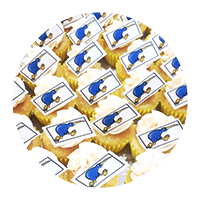 Order Quantities
We treat each order with utmost care and make each cupcake with love. For urgent orders, call us and we will do our best to help you. Minimum order is 6 but for larger orders (100+ cupcakes), you can save with our discounted pricing offer.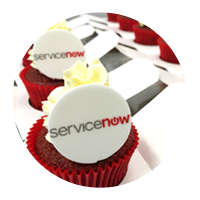 Branded Cupcakes
The ultimate corporate cupcakes are ones that represent your business! And we can customise our cupcakes to best suit your brand. We can theme the colours by selecting the right cupcake case and frosting colour. We can use our edible ink printer to add your logo or message. We could even add themed fondant decorations on top of the frosting.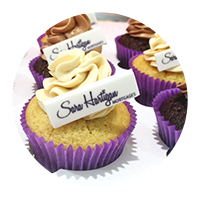 Packaging & Displays
Depending on the occasion we have several options available to packaging and displays. We can individually package cupcakes for a handy take away treat or you can display them using the cupcake holder that come inside our standard boxes, or we have great cupcake stands available for hire.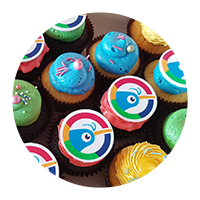 Auckland Delivery
We can arrange a pick up time from our bakery in Birkenhead on the North Shore or we can deliver your cupcakes Auckland wide. Our standard courier service does 2 delivery runs per day (10am & 2pm). For larger orders, we will arrange a special direct delivery to your event.  For urgent or early morning deliveries, call us and we will do our best to get your order in time.